Scanworking Thursday - Business & Hygge
Fotografiska Top Floor - Tallinn
Description
Scanworking Thursday - Business & Hygge
After a long summer, now it's time to meet again at Scanworking Thursday. Please remember that it is an open informal event, so feel free to bring your partners and colleagues!

Scanworking Thursdays by NECC/SCCE/DECC is an event series that normally takes place on the FIRST THURSDAY of every month in DIFFERENT LOCATIONS of Tallinn City Centre. This time we break our rule and meet on the second Thursday of September. 

NB! Please follow reasonable practices to prevent the spread of Covid-19 disease.

For more info please contact:
NECC - Annely Särglep M: +372 510 1004
DECC – Anneli Vilu M: +372 509 1082
SCCE - Kristiina Brodén M: +372 501 9813

****
Fotografiska Restaurant adds a new level to the Estonian food culture. Such reuse, from the interior to the serving of food, has never been seen in Estonia before. The sourdough bread, which is our substitute for the traditional Estonian black bread, is served on 'plates' made from the bread baking trays of a former bread factory. The cabbage paste, which replaces butter, is served in a bottle bottom cut from a wine bottle. The dishes on the menu are mainly vegetarian. If you wish, you can add the daily meat or fish to each dish.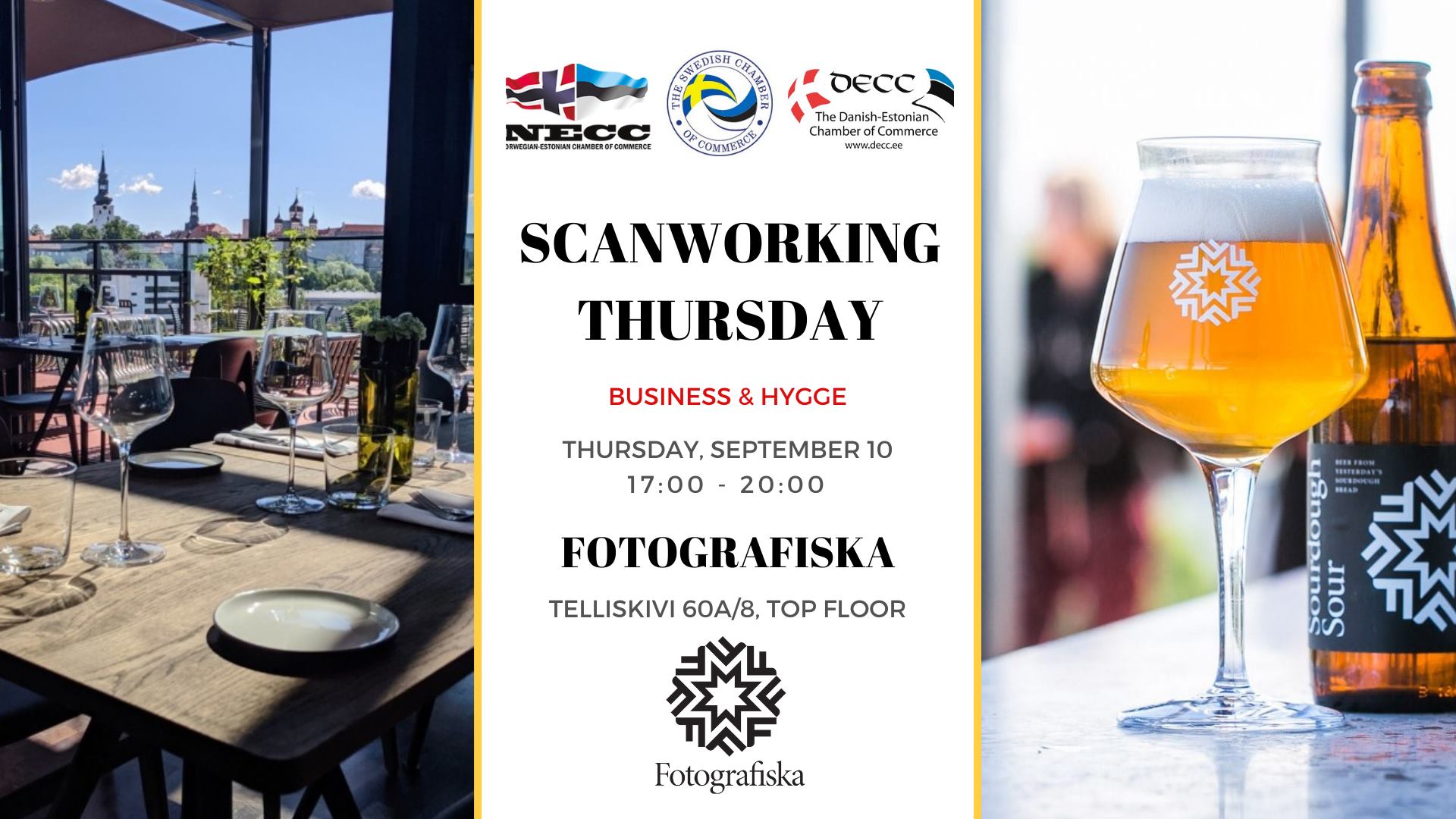 Venue
Fotografiska Top Floor
City: Tallinn
2020-09-10 17:00:00 2020-09-10 20:00:00 Europe/Tallinn Scanworking Thursday - Business & Hygge

Scanworking Thursday - Business & Hygge

 

After a long summer, now it's time to meet again at Scanworking Thursday. Please remember that it is an open informal event, so feel free to bring your partners and colleagues!

Scanworking Thursdays by NECC/SCCE/DECC is an event series that normally takes place on the FIRST THURSDAY of every month in DIFFERENT LOCATIONS of Tallinn City Centre. This time we break our rule and meet on the second Thursday of September. 

NB! Please follow reasonable practices to prevent the spread of Covid-19 disease.

For more info please contact:
NECC - Annely Särglep M: +372 510 1004
DECC – Anneli Vilu M: +372 509 1082
SCCE - Kristiina Brodén M: +372 501 9813

****
Fotografiska Restaurant adds a new level to the Estonian food culture. Such reuse, from the interior to the serving of food, has never been seen in Estonia before. The sourdough bread, which is our substitute for the traditional Estonian black bread, is served on 'plates' made from the bread baking trays of a former bread factory. The cabbage paste, which replaces butter, is served in a bottle bottom cut from a wine bottle. The dishes on the menu are mainly vegetarian. If you wish, you can add the daily meat or fish to each dish.

Fotografiska Top Floor Marek marek@reaktiiv.com