EY Business Breakfast "Economic uncertainty on the rise
Description
EY Business Breakfast
"Economic uncertainty on the rise"
Date: Tue, October 01, 2019
Time: 9:00 – 11:00
Venue: EY Estonia office, Rävala pst 4 (VII floor), Tallinn
Exclusive event by one of the largest professional services firms in the world – EY. Don't miss this opportunity!
It's high time to check whether your contracts and business relationships are in order to avoid any unpleasant surprises if the worst should happen. EY's law, tax and forensic specialists will share practical tips and tricks.
EY people love challenges! Regardless of whether you are a start-up, growth, mature or distressed company – they are here to help with all your challenges on a global scale. The EY network of advisors unites more than 260 000 professionals from over 85 different countries who are always ready to help you so that you can concentrate on your business. 
Is there anything you would like to know from EY Estonia's top specialists? Send questions via registration form below or to annely@necc.ee before Friday, September 27th so that we could tackle your issues! 
EY is hosting NECC & DECC members in EY Estonia office at Rävala pst 4, VII floor room Saaremaa.
---
Speakers:
---
The registration deadline is Friday, September 27h!
This event is for NECC & DECC members ONLY!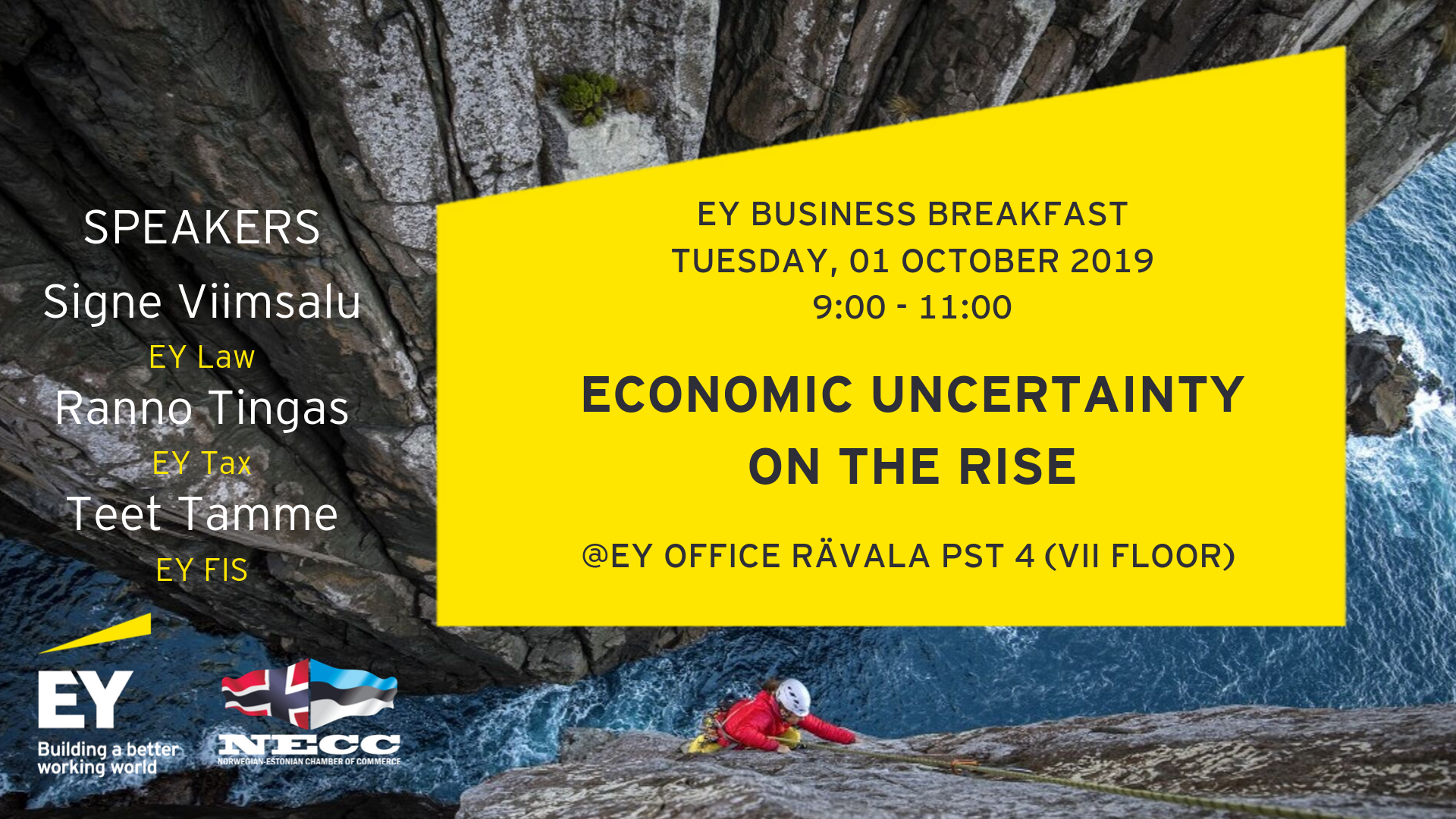 Venue
Tallinn
2019-10-01 09:00:00 2019-10-01 11:00:00 Europe/Tallinn EY Business Breakfast "Economic uncertainty on the rise

EY Business Breakfast
"Economic uncertainty on the rise"

Date: Tue, October 01, 2019
Time: 9:00 – 11:00
Venue: EY Estonia office, Rävala pst 4 (VII floor), Tallinn

 

Exclusive event by one of the largest professional services firms in the world – EY. Don't miss this opportunity!

It's high time to check whether your contracts and business relationships are in order to avoid any unpleasant surprises if the worst should happen. EY's law, tax and forensic specialists will share practical tips and tricks.

EY people love challenges! Regardless of whether you are a start-up, growth, mature or distressed company – they are here to help with all your challenges on a global scale. The EY network of advisors unites more than 260 000 professionals from over 85 different countries who are always ready to help you so that you can concentrate on your business. 

Is there anything you would like to know from EY Estonia's top specialists? Send questions via registration form below or to annely@necc.ee before Friday, September 27th so that we could tackle your issues! 

EY is hosting NECC & DECC members in EY Estonia office at Rävala pst 4, VII floor room Saaremaa.

---

Speakers:

---

 

 

 

 

 

 

 

 

 

 

 

 

The registration deadline is Friday, September 27h!

This event is for NECC & DECC members ONLY!

Tallinn Marek marek@reaktiiv.com