Networking Thursday @Põhjala Brewery
Networking Thursday @Põhjala Brewery - Tallinn
Description
This time we will meet on the third Thursday in September! Sorry for breaking the pattern.

The tour in the Põhjala Brewery starts at 18:30! The tour costs 10 EUR per person and you can pay for it after the tour (the pre-registration to the tour is available via registration button below).

The tour includes a ca 45-minute stroll through production with information about beer making and the brewery and tasting of 3—4 different beers.

PS – Networking Thursdays are informal events. Feel free to bring your partners and colleagues.

The history of Põhjala Brewery:

Põhjala was founded in Tallinn, Estonia at the end of 2011 by four Estonian beer enthusiasts and homebrewers. Soon thereafter the company was joined by a Scottish head brewer, Chris Pilkington, with a few years of Brewdog experience under his belt. The first Põhjala beer, Öö Imperial Baltic Porter, was released at the beginning of 2013 and for most of that year, our beers were contract-brewed in other breweries' production facilities while we prepared to open our own. Construction of our first brewery was completed in April 2014 in Tallinn's Nõmme district.

Since 2014, Põhjala has poured beers at many beer festivals around the world — from TCBW organized by us in Tallinn, to Cigar City's Hunahpu's Day in Tampa, Florida and Young Master Invitational in Hong Kong.

At the end of 2018, we moved to our new facility in the historical Noblessner shipyard area by the sea in North Tallinn.

The Põhjala Brewery and Tap Room now feature a 50 hl Rolec brewhouse and Framax filing line, state of the art lab facilities and a taproom with 120 seats and 24 taps.

The Põhjala Tap Room:

Põhjala Tap Room's 24 taps feature the freshest Põhjala IPAs, our richest barrel-aged Imperial Stouts, and selected guest beers.

The cuisine, curated by Chef Michael Holman, is centered around Texas BBQ that we smoke on the spot and features various sides, salads, sandwiches, snacks and desserts. Their bread, cakes, sauces, pickles, bacon and sausages are house-made.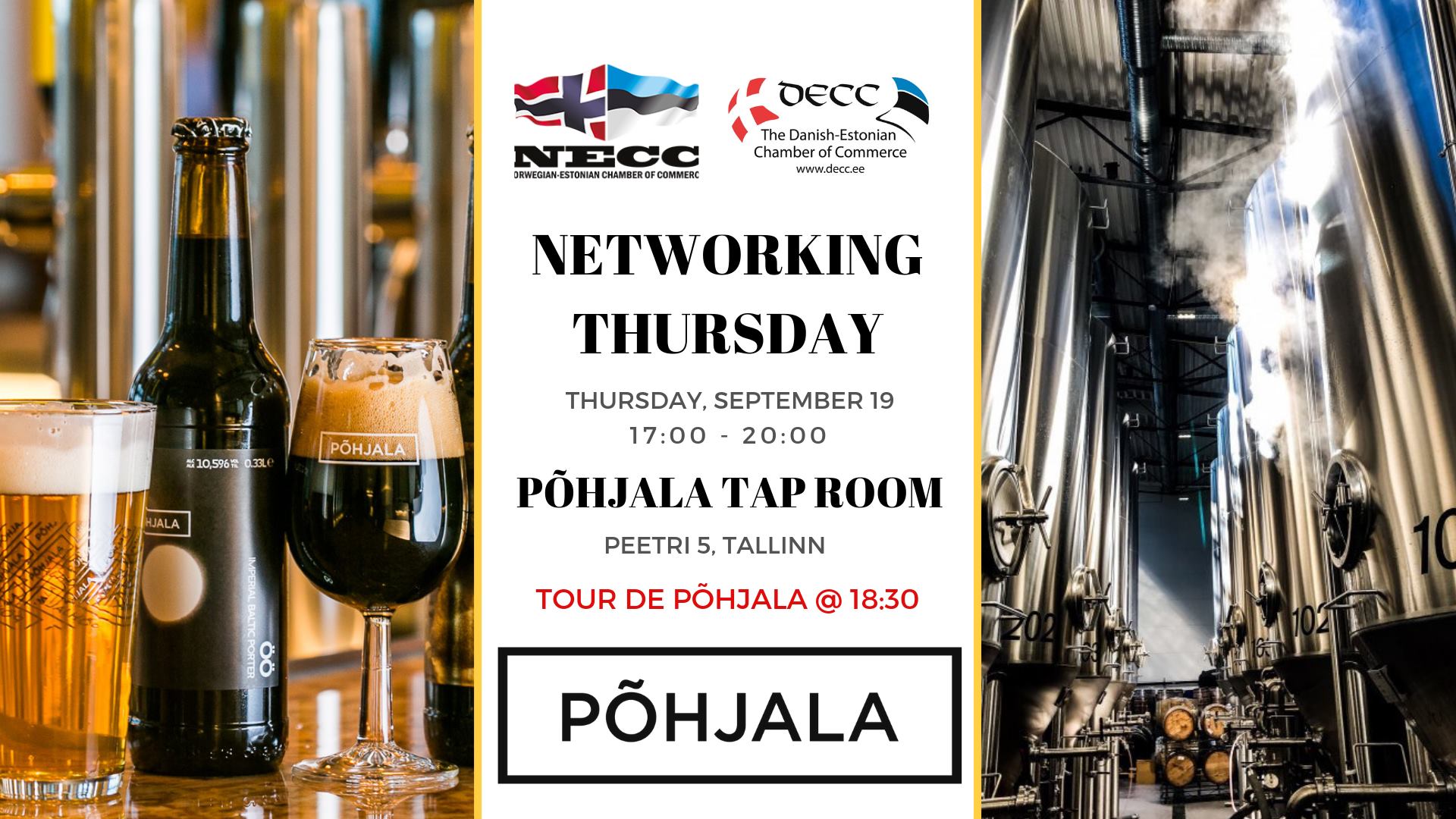 Venue
City: Tallinn
2019-09-19 17:00:00 2019-09-19 20:00:00 Europe/Tallinn Networking Thursday @Põhjala Brewery

This time we will meet on the third Thursday in September! Sorry for breaking the pattern.

The tour in the Põhjala Brewery starts at 18:30! The tour costs 10 EUR per person and you can pay for it after the tour (the pre-registration to the tour is available via registration button below).

The tour includes a ca 45-minute stroll through production with information about beer making and the brewery and tasting of 3—4 different beers.

PS – Networking Thursdays are informal events. Feel free to bring your partners and colleagues.

The history of Põhjala Brewery:

Põhjala was founded in Tallinn, Estonia at the end of 2011 by four Estonian beer enthusiasts and homebrewers. Soon thereafter the company was joined by a Scottish head brewer, Chris Pilkington, with a few years of Brewdog experience under his belt. The first Põhjala beer, Öö Imperial Baltic Porter, was released at the beginning of 2013 and for most of that year, our beers were contract-brewed in other breweries' production facilities while we prepared to open our own. Construction of our first brewery was completed in April 2014 in Tallinn's Nõmme district.

Since 2014, Põhjala has poured beers at many beer festivals around the world — from TCBW organized by us in Tallinn, to Cigar City's Hunahpu's Day in Tampa, Florida and Young Master Invitational in Hong Kong.

At the end of 2018, we moved to our new facility in the historical Noblessner shipyard area by the sea in North Tallinn.

The Põhjala Brewery and Tap Room now feature a 50 hl Rolec brewhouse and Framax filing line, state of the art lab facilities and a taproom with 120 seats and 24 taps.

The Põhjala Tap Room:

Põhjala Tap Room's 24 taps feature the freshest Põhjala IPAs, our richest barrel-aged Imperial Stouts, and selected guest beers.

The cuisine, curated by Chef Michael Holman, is centered around Texas BBQ that we smoke on the spot and features various sides, salads, sandwiches, snacks and desserts. Their bread, cakes, sauces, pickles, bacon and sausages are house-made.

Networking Thursday @Põhjala Brewery Marek marek@reaktiiv.com